How to reset the ACP password

Today in this technology world everyone wants to showcase their business products and services to the people around them and also to the people across the globe. And to do so one the best way is by having a website. And today if you are having a website and you want to reset your ACP password, you no need to worry about it. All you need to do is just follow the below steps and perform it.
If you want to change the ACP password you have  two options.

1.  You can change the change the password through ACP panel.
2.  Also you canable to change through SSH in your Reliable Dedicated Server.

How to change the Password through ACP panel.

Steps 1: Login to ACP panel=>Once you will login to ACP you will get Change Password option.

Steps 2: Click on Change Password=>Once you will click on Change

Password=>From there you have to fill Current password, New password and Confirm new password.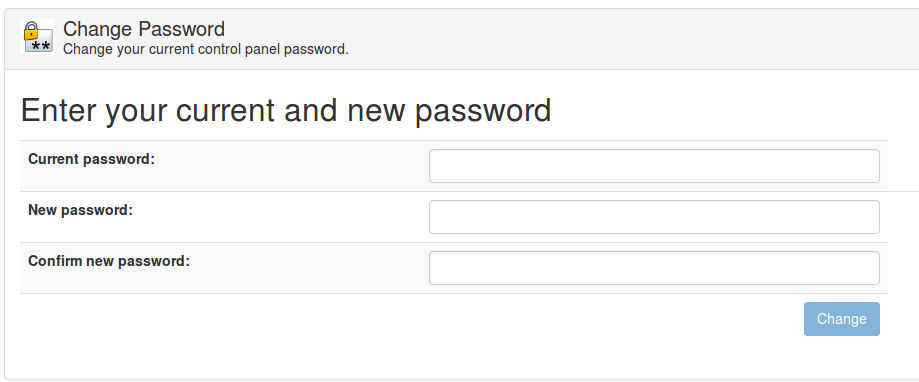 Steps 3: Once it will be done click on change.

How to change the Password through SSH in Dedicated Server Hosting.

Steps 1: Login to SSH.

Steps 2: Once you will connect with SSH after that you have to run the below command.

Command:  setzadmin --set new-password


If you want to have special features on your website hosting then you can choose our dedicated server hosting plan. Here in our dedicated hosting, we provide you the complete access to your server and you can manage and handle your website as per your need. Our dedicated servers at available at an affordable price and when you buy our dedicated server you also get FREE Varnish Server and FREE Website Optimization. So get your Dedicated server hosting from India's #1 web hosting provider.

When you buy dedicated hosting services from HostingRaja we provide you with OVIPanel. With help of Dedicated hosting OVIPanel, you can easily host multiple websites. In dedicated hosting, you get the special feature where you have a privilege of owning the entire server.