How to add Email alias in Cloud? 
Email aliases are created to provide an alternative way for forwarding the email address that corresponds to an email address which is an easier means to remember long and difficult email addresses.
Basically this email alias doesn't have a mailbox of its own, and instead forwards all mails to the primary email address. This module is generally configured on a mail server or the mail service provider control panel. An email alias can be assigned to only one email on a mail server or mail domain. However, an email address can have more than one email alias, all of which refer to the primary email address.
Lets look into the steps below to create Email Aliases:
First you need to Login to our ACP Panel.
Under List Account Select appropriate user and click on login.

Now you can see the Aliases module under Mail section, So select the domain name from the drop down and click on Edit.
List of Aliases can be seen if you have created it already or else go to the form below and do the following things:
Alias Address: Enter the first part of email id of particular domain i.e ex akhi and Select the domain extensions from the drop down menu.
Note: This address is the mail box address for which u want to have alias mailbox
Destination: Select the proper destination address from the drop down menu.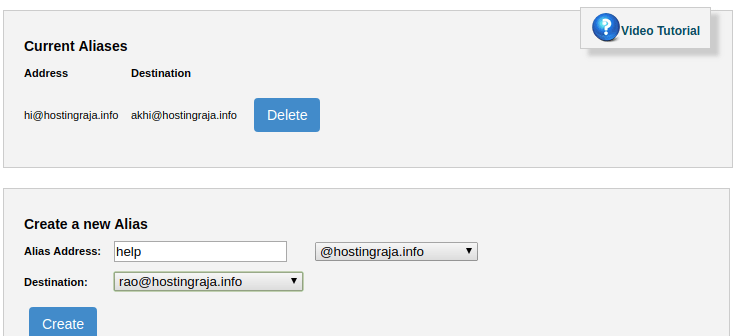 Once you filled with above details click on create.
If you want to delete the alias just click on delete button.

Try our Windows plan under shared hosting
Do you know, HostingRaja is the popular choice for programmers in India for all Windows and Plesk based applications. We provide
Windows Hosting
in shared plan, If you want to buy windows unlimited or any Plesk based shared
hosting
, then you can visit this windows hosting page. Our windows plan supports various features such as MVC Framework, Asp.net, MsSql, Crystal report, URL Rewrite, IIS Server, Visual studio, Backup & Restore, Web Mail, Plesk, Ajax Tool Kit.